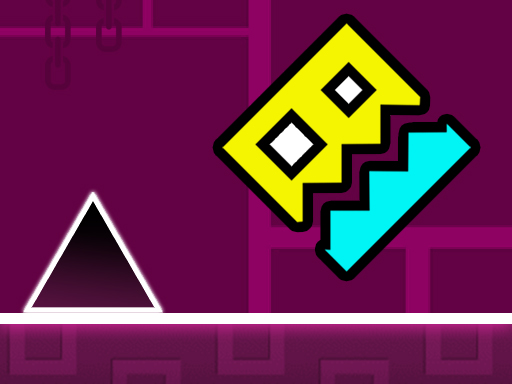 Don't miss Geometry Jump, a free, fast-paced game in which you can run, jump, and fly over tons of pesky obstacles in a geometric 2D world! If you're a true fan of the dash game, Geometry Jump is perfect for you. This spin-off version will surprise you with colorful graphics and stunning music. In this game, you will control a geometric figure and overcome the obstacles in its path to reach the finish line! These obstacles are varied, including spike blocks, square bricks, and even liquid pools. If you hit a brick, you'll restart from the beginning of the level unless you set a flag before you die. Flags work as your checkpoint. There are only 10 flags to be used in a single game. Try to use them wisely!
Geometry Jump, known as the sequel to the famous Geometry Dash, was developed by RobTop Games. There are 15 stages with different terroirs, traps, and difficulties that are available to be explored in this installment, before waiting for newer chapters to be updated. Dive into the world of colorful geometry and test your reflexes by flipping over all the deadly obstacles that pop up in your way. It's easy gameplay but hard to master. Fly and flip your way right now! Put your skills on the line and see if you can survive the thrilling challenges!
Feature
15 normal modes with unique soundtracks.

60 unlocked skins ready to choose

Fun customizable characters

2D isometric visuals and art design.

Excellent music sync to steps.

Simple rhythm-based controls and fun gameplay
Geometry Jump Tips and Tricks
Try to place the flag in the most favorable position in case you have to start the level again.

You can use the SpaceBar, the Up Arrow Key, or the Left Mouse Button to play. So, choose the technique you feel most comfortable with.

Every 5-10 minutes, take a break. This will give your eyes and brain a rest. Then start again when you are completely ready for the race.
How To Play
Normal Modes
There are 15 normal game modes available to play.
Preamble

Let's Go

Gravitational

Drought

Data After Data

Never Give Up

Step Jump

Teleporter

Circulation

Xpart

Indiscriminate

Truth

Space Exploration

Association

Planet Hunt
Other Dash Games
Geometry Dash
Similar to Geometry Jump, this is a free geometric scrolling game that you can play in sync with the soundtrack rhythms. Flip over and under obstacles to survive the deadly race. If you crash, it's back to the start! In Geometry Dash, the character moves by itself. All you need to do is jump when necessary. When you break through the levels, there are different interfaces with cool new music tracks. This original dash game will give you exciting experiences!
Geometry Neon Dash World 2
If you like fast-paced games like Geometry Jump, Geometry Neon Dash World 2 this is just the right game for you. Your mission in this game is to complete and reach the portal at the end of each level. The game controls are very simple. Click the left mouse button to jump whenever you see an obstacle on the way. You can earn the stars you see along your path to unlock new characters.
Geometry Dash Subzero
This is an excellent sequel to Geometry Dash. Jump in and get ready for dangerous tracks and deadly obstacles! It's super easy to play, just tap to jump and flip. A new feature called "double-jump" will be unlocked after some stages.